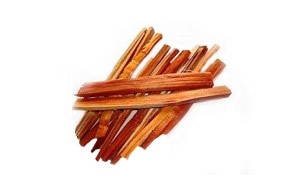 English Name : Sappan Wood
Hindi Name : Patang

PROPERTIES: Antibacterial, Anticoagulant & Antioxidant
The species of flowering plants called Biancaea sappan are from the Fabaceae family. It is native to tropical Asia and is commonly known as sappan wood or Indian redwood. It was originally called "bezel wood" in different parts of Europe. Sappan wood benefits are popular due to its antibacterial and anticoagulant properties, which are preferred by many medicinal practices.
One of the known sappan wood uses is in the form of a pink drink. The slivers from the tree's heartwood are used for making herbal drinking water or other hot beverages for curative measures. The pink-coloured drink with a woody taste is served in Kerala, Karnataka and Central Java. Some add ginger, cinnamon, cloves and sugar to make it palatable. As a drink its ability to cool the body during summer is commendable.
The reddish dye called brazilin is used for dyeing fabrics and making paints and inks. This light wood was traded largely during the 17th century, which made it popular and expensive. Sappan wood uses in Indian and Chinese traditions include:
* Cleansing your circulatory system
* Activating blood circulation
* Antioxidant properties for faster healing
* Anticoagulant properties for critical illnesses
* Preventing bacterial infections
* Improve liver function
For years ayurvedic, homoeopathic medicine and conventional medicinal practitioners have proven Sappan wood benefits.

Antibacterial Uses
You can take some lukewarm boiled water and add Sappan wood shavings, which helps bring out its antimicrobial properties. The methanol content in the wood helps inhibits particular bacteria which cause joint infections and various types of skin issues.
Fights Acne
Sappan wood health benefits of acne have been proven in ayurvedic practices. People suffering from acne, breakouts and skin issues can wash their face with Sappan wood-induced water and dry their face with a soft cloth. The red-pigmented Brazilein found in Sappan wood extracts is great for your skin.
Great Antioxidant
Sappan wood uses amongst tea lovers is growing, since many recent articles have been praising its curative properties. As tea can cause severe acidity and caffeine addiction, you are advised to try Sappan wood tea instead. Research shows it can be more effective in fighting free radicals in comparison to rich antioxidants found in foods like blueberries.
Against Allergy
Its anti-allergic property is one of the best Sappan wood health benefits. You could consume a lot of sappan wood to treat different allergies.
Great for Epileptics
If you are suffering from seizures or convulsions due to epilepsy, Sappan food is your solution. Research has concluded anticonvulsant activities are effective when consumed correctly.
Healthy Heart
Sappan wood benefits those suffering from heart issues. Research shows the positive effects of Brazilein (the red pigment in the wood) on cardiac health. You can see lasting effects with continuous use. We advise you to check with your physician before you start consuming Sappan wood.
As we mentioned earlier it is easy to make a healthy concoction with Sappan wood. Sappan wood is easily available at any ayurvedic store or with a practitioner. You could even use health products that have Sappan wood as an ingredient in them. So the next time you are thirsty or yearn for an unhealthy aerated drink, remember the lasting benefits of sappan wood. All you need to do is:
* Take a glass of water
* Add some sappan wood extracts
* Squeeze a bit of lime
* Add some honey for sweetness
That is how you make your unique and interesting lemonade drink, and sip it with pride!