We Provide Natural Solutions For a Healthy Life For Over 7 Decades. | Free Shipping for orders above Rs 550/-
When we speak about "BEAUTY", skincare is always given the first priority. Since, skin is the largest organ of a human body and is the first sign of your beauty, skincare plays an important part. Being exposed to changing weather conditions, your skin needs a good care.

Skin care in India has been given a lot of importance since ancient times. The ingredients used have multiple health benefits. Natural ingredients like aloe-vera, neem, sandalwood, turmeric, etc. were used and is still been used for a glowing skin even now.
Why Is Skin Care Important?
Importance to skin care must be given for the following reasons:

• It helps your skin stay in good condition: Skin is one such organ that sheds cells throughout the day, so it's important to keep your skin in a good condition. Following a routine can help the skin from getting acne, wrinkles, and help keep your skin looking the best.
• The better care for a youthful skin: As you age, your skin's cells turn over more slowly, making it look duller and less radiant. Using a quality skin care line can help remove dead skin cells so your body will replace them with newer, more youthful cells.
• Have a Prevention rather than Cure: Preventing skin problems is easier -– and less costly – than trying to fix them up in the future.
• Boost in Self Confidence: Your Self – Esteem improves when your skin looks better, giving a boost in your self-confidence.
Keeping in mind some of the key ingredients for a healthy skin care, Vicco has come up with some of the best Ayurvedic skin care products which are best for every type of skin but keeping in mind the traditional care that our forefathers have given to our body.
Have Queries or Concerns ?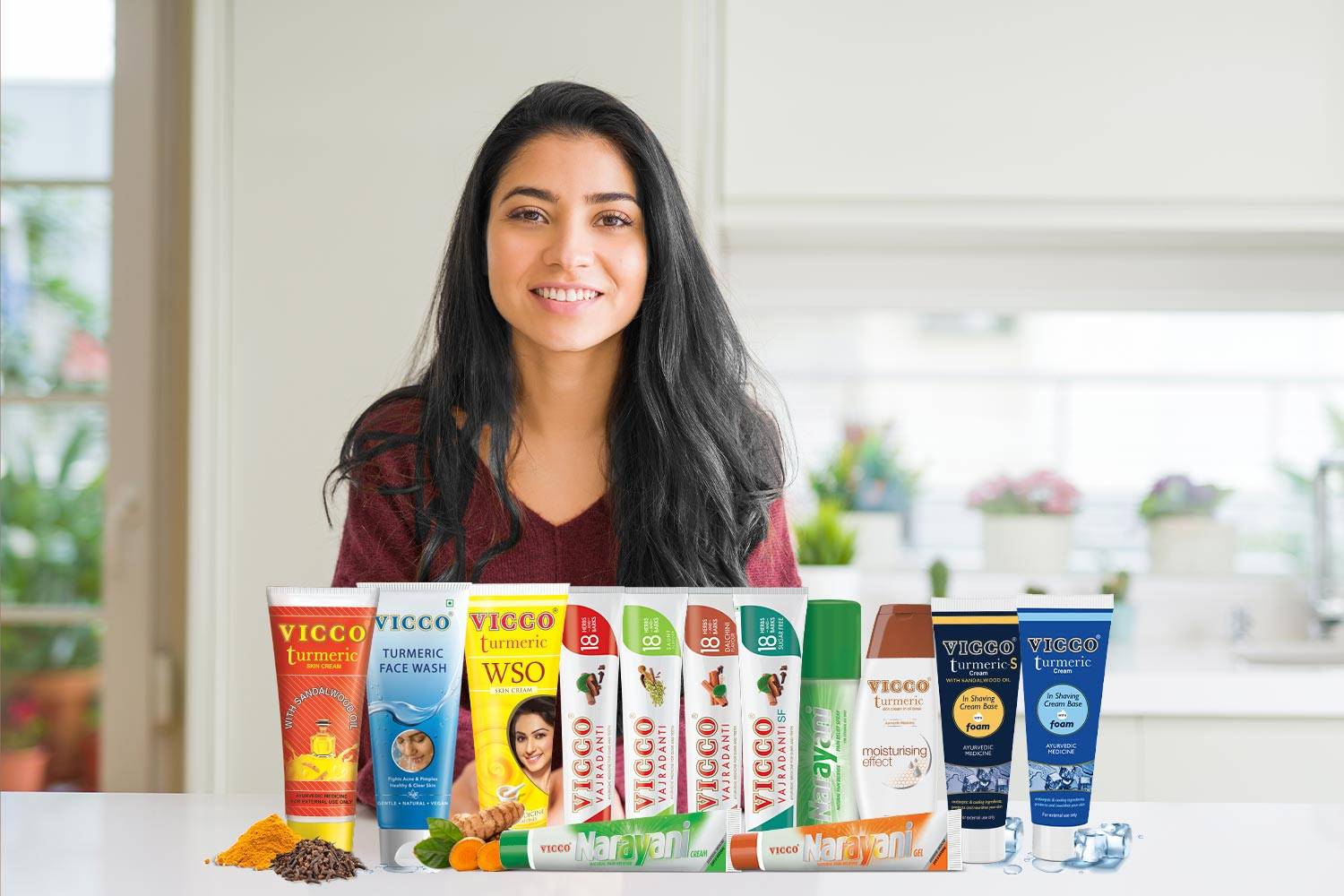 Vicco keeping in mind the traditional ingredients that India has been using since a long time has come up with some products that have occupied the space of the best skin care products in India. They are listed below:

1) Turmeric – WSO cream
2) Turmeric skin cream
3) Vicco Turmeric aloe vera skin cream
4) Vicco turmeric face wash
All the products as we see are the best ayurvedic products for skin which helps you give some gentle and kind care. These skin care ayurvedic products are tailored and made in a way that Indians who have been using natural products can still use them but which are readily available and can be used on direct application.
Vicco has always made Indian ayurvedic skin care products of utmost importance and targeting their audience who want to use these products to keep give their skincare the utmost care.
Your face is the first sign of beauty and needs a gentle care. Compared to other body parts, the skin on your face is soft. Hence, all soaps cannot be used for the rest of the body. Our Indian Ayurvedic skin care products are best suited to give that extra gentle care to your face making it look lustrous but with a touch of the nature that our ancestors have given.

Speaking further, when we speak about our products, Turmeric face wash is one of the most recommended products that is used widely in India. The product is packed with Curcumin, a compound found in Turmeric which helps in quenching free radicals and reducing inflammation present on your skin.
With the same benefits of Turmeric, Vicco also has a Face Cream. There are three ranges namely Turmeric Skin care, Turmeric – WSO, Vicco turmeric aloe vera skin cream, all which have been made for the application of oily, dry and normal skin. These skincare products helps in nourishing the skin with the requirements of natural ingredients to give the gentle care that one needs.
Benefits Of Using Vicco Turmeric Products
1) The skin cream acts as an antiseptic helping in healing scars and keeping your skin healthier
2) Helps to soothes boils, pimples, acnes and burns.
3) Since it is packed with Ayurvedic ingredients, it has no side effects
4) People of all age groups can use the products
Multiple Problems – Simple Solution
Before we get to the solution, let's understand the common skin problems that one faces in general. Eczema, Psoriasis, Blisters, Blemishes, Acne are some of the most commonly faced problems. The most common issue that triggers skin problem are trapped particles on the skin, which can be bacteria, fungus, external pollutants and sun.
One must be thinking, if Sun can cause skin problems, then how can we get our daily dose of Vitamin – D. The answer to that is simple. Sun is indeed an important source for your skin but too much exposure to Sun may be harmful. Our human body is designed in a way that there exists a certain capacity beyond which our body might not be able to take control of. That's when we need to give nourishment externally
Hence keeping in mind, products at Vicco have been crafted in a way that you take small steps to ensure that skin gets its daily dose of nourishment but keeping the skin problems at bay.
Next time, whenever you need to give some really good care to your skin, do think about Ayurveda and of course whenever you think about Ayurveda do think about VICCO.