We Provide Natural Solutions For a Healthy Life For Over 7 Decades
The word "Body Care" seems to be a very complex terminology. But in general, the meaning remains simple. It indicates the amount of time you dedicate to your body related hygiene. Most of the time people confuse body care with skin care. One must realize that when we speak about Skincare it mostly focuses on the "FACIAL" aspects and the care given to it. Whereas the Body involves that portion that runs down below the neck. It includes the portion of the hands, legs, and torso too.
When we speak about tips on body care, you must be wondering why is body care important? Taking care of your body externally is one factor but also giving some internal care makes it an important part of your body care too.
Some of the ways you can keep your body clean are:

1.Eating a Healthy Diet – Having a healthy diet is the first and foremost thing for a good body. Having fresh fruits and vegetables and also involving plenty of water in your diet makes it a healthy choice.

2.Including Roughage/ Fibre – Fibre forms an important part of your diet and is good for bowel movement. A good bowel movement is necessary to keep your body healthy and toxin-free.
3.Stress Management – Stress is of two kinds, Eustress and Destress. Eustress is good and helps to keep you going in your work, whereas destress is harmful to your body. When we speak about stress management, it means keeping your destress at bay.
4.Avoid Smoking and Alcohol – Smoking and Alcohol are substances that only create stress on your body and damage on a long-term basis.
As we see, simple but important steps can be taken to give gentle care to your body. This is mostly dealing with internal care but for external, we have some products that can help nourish your body. Let's take a look at some of them.
Have Queries or Concerns ?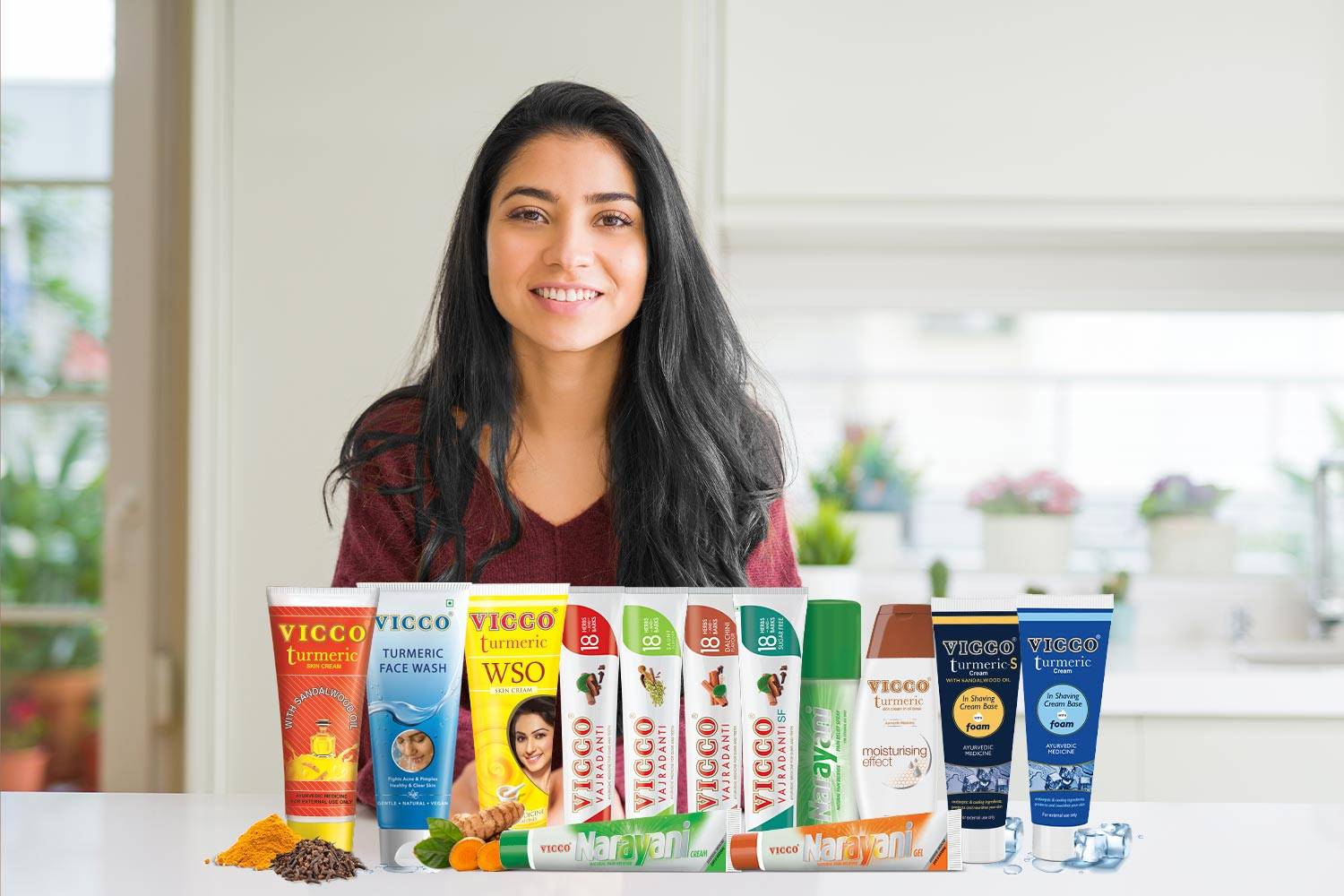 We at Vicco have closely chosen products that have been used for ages. To name a few, we have aloe vera, kokam, and turmeric which have been used for ages, and infusing these products to give the natural touch that one requires for gentle care to your body.
Taking a look at some of our products, they are listed below:

1.Vicco aloe vera kokam butter multipurpose lotion
2.Vicco Turmeric Lotion In Oil Base

These products are crafted in a way that can be applied to all skin types and the bottle is designed to be handy whenever you need it. Speaking further, the Vicco turmeric lotion can be used in any given climatic condition since it's a moisturizer crafted for all skin types.
The benefits includes slowing down the aging process. Keeping the skin hydrated gives you a younger look and the chances of having wrinkles and fine lines in your old age get reduced. Although a necessity part of your skincare, excessive sunlight is a deterrent for your skin. But our best body care products will serve a dual purpose – moisturizing your skin and protecting your body from harmful UV rays. The Curcumin compound ensures that your skin is kept protected at all times and helps nourish it.

All thanks to our strong Indian cultural roots we have been given the best body care products that one would need making people fit as a fiddle. India being a land of rich heritage, the world has always appreciated the gifts of Ayurved and Vicco has infused the compounds of Ayurved in their products making it easy and affordable for everyone to use it.
Your face is the first sign of beauty and needs a gentle care. Compared to other body parts, the skin on your face is soft. Hence, all soaps cannot be used for the rest of the body. Our Indian Ayurvedic skin care products are best suited to give that extra gentle care to your face making it look lustrous but with a touch of the nature that our ancestors have given.

Speaking further, when we speak about our products, Turmeric face wash is one of the most recommended products that is used widely in India. The product is packed with Curcumin, a compound found in Turmeric which helps in quenching free radicals and reducing inflammation present on your skin.
With the same benefits of Turmeric, Vicco also has a Face Cream. There are three ranges namely Turmeric Skin care, Turmeric – WSO, Vicco turmeric aloe vera skin cream, all which have been made for the application of oily, dry and normal skin. These skincare products helps in nourishing the skin with the requirements of natural ingredients to give the gentle care that one needs.
Body Care Products Online
Keeping in mind Vicco has made its products available on both its website and on major e-commerce platforms too. Their main aim is to reach every household and gift the benefits of Ayurved to everyone. The pricing is kept in a way that every household can reap the benefits of Vicco and use their products which are pocket friendly also.
Whenever you think of buying Ayurved, always think of VICCO. Since Vicco guarantees Natural and Holistic properties of nature induced in their products, enjoy the gift of nature with VICCO