We Provide Natural Solutions For a Healthy Life For Over 7 Decades. | Free Shipping for orders above Rs 550/-
Personal care seems to be a very important matter. We always talk of having a good personal care. But have we ever wondered what exactly is Personal care. Seems like a very complex topic, but the answer to it is absolutely simple.


Personal care denotes the amount of time dedicated to our daily hygiene. Further elaborating, personal hygiene can cover your day today routine like brushing, bathing and all other activities that we do on a daily basis.

We at Vicco have made some of the best personal care products to ensure that you give some time to yourself. Various types of personal care products are available with us keeping in mind our audience who needs to nurture themselves with a touch of nature.
India is a land immersed in rich culture. Right from our golden ages, we include food articles that have also been treated even as medicines too. Turmeric, ghee, rosewater, honey, etc. which are natural food articles which act as medicines too.

People of the Indian subcontinents hardly suffer from any major diseases. Thanks to the ingredients added to the food which also has medicinal properties too.

The term "Ayurveda" has always been associated with Nature and India has always been the pioneer in Ayurveda.
For over 5 decades, Vicco has been working on the offerings of Ayurveda. Their main aim is to reach every household providing the benefits of Ayurveda that India has been gifted with.

Have Queries or Concerns ?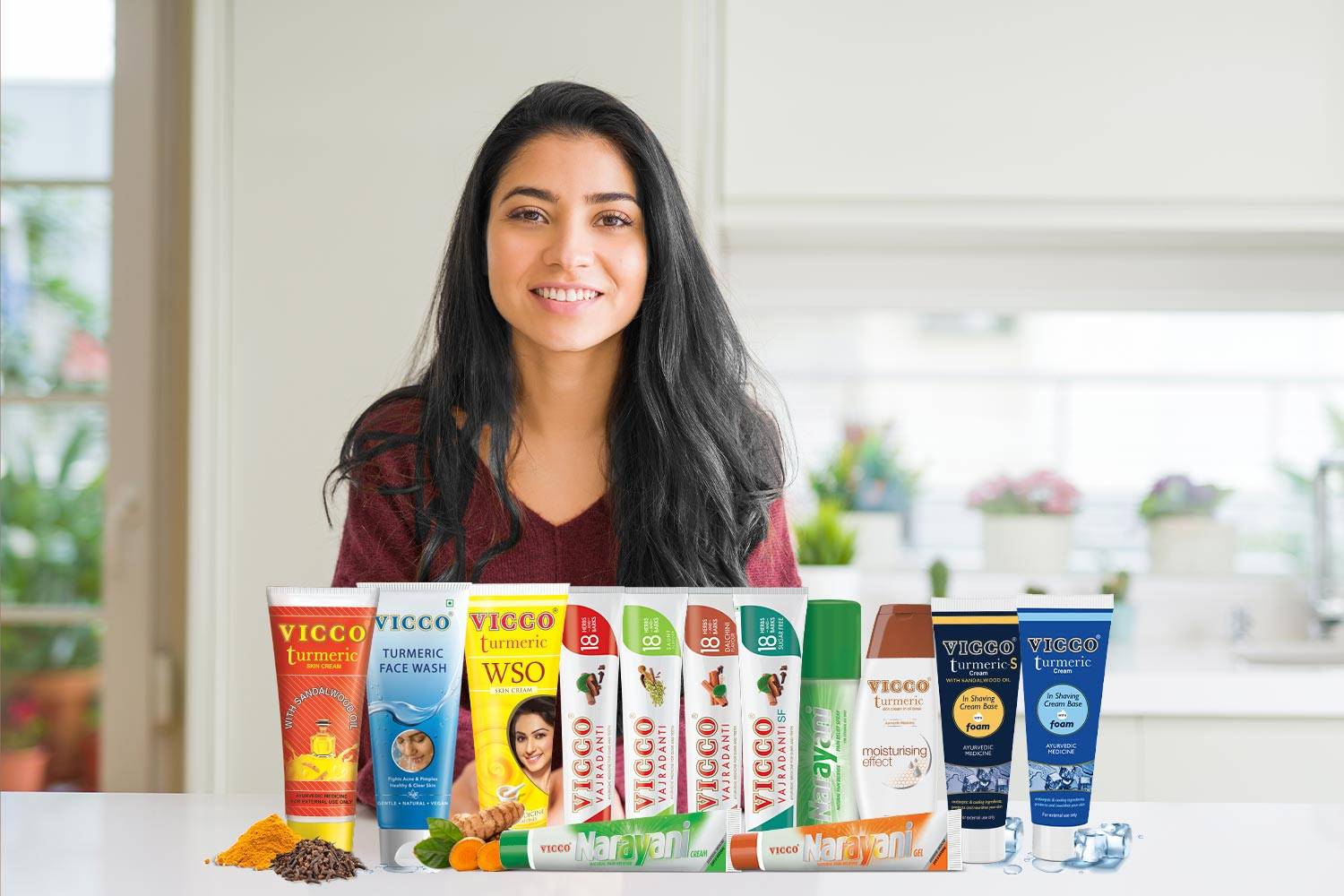 Vicco promises an Authentic and Natural solution offering their customers personalized routine care regimen, tips, expert advice, and a lot more to ensure health naturally!
Our Ayurvedic products have just one goal, "Natural Care". Be it any product we need the natural care that our forefathers have always given us.
Vicco has always ensured the best personal hygiene products meant for their audience but keeping in mind the ancient traditions followed for ages. Some of the best personal hygiene products are listed below:

1.Vicco Hand Sanitizer Gel
2.Vicco Turmeric Shaving cream
3.Vicco Turmeric Shaving Cream – S
4.Vicco Narayani Gel
5.Vicco Narayani Spray
6.Vicco Narayani Pain Relieving Cream
Hygiene is a must for all. When we speak about Hygiene, keeping your hands clean is always first in the list. It is a well understood fact that a clean hand is an obligation as we touch multiple things in a given day. But, the main problem arises since we do not get water always keeping the hands clean becomes difficult. Hence, a hand sanitizer saves your day. Our Vicco Hand Sanitizer Gel is made to keep your hands clean when you are on a go. Although the product is alcohol based, it helps to keep to keep your hands soft, all thanks to the natural ingredients present in it. The bottle is designed in way that can be carried wherever you go


Vicco Shaving Cream Range
Every man needs to look good. A good shaving helps him to look a true gentleman that he needs to be. With our Vicco Shaving cream range, get a clean shave but with a touch of nature. Our shaving cream includes Vicco Turmeric Shaving Cream Without Sandalwood and Vicco Sandalwood shaving cream. The cream help in softening your thick facial hairs and allows the razor to give a smooth shave that it needs to do. Our cream helps to moisturize, hydrate and also keep your skin smooth allowing it give a lustrous shine after shaving, all thanks to the properties induced with the help of Turmeric.
The cream is designed in a way that it is light in nature and does not require the use of brush It can be also be taken while travelling too.
Pain can be the biggest enemy for a man. Sometimes pain can be ignored but at times it cannot be. In such a situation, the best solution is a Pain Reliever. With our Vicco Narayani range get a quick fix to all your pain and ensure that your life does not stop at any point. Our products consists of Vicco Narayani Gel, Vicco Narayani Spray, Vicco Narayani Pain relieving cream. The products are designed in a way that it is handy in nature and can be taken anywhere you go. Applying it is easy. In case of cream, just squeeze it up and apply at the point of pain. For the spray, just shake the bottle and spray it where the pain exists.

Just a word of caution:
• Keep out from the reach of children
• Store in a cool and dry place away from direct sunlight
• Use under medical supervision
These products are tailored for both men and women and will help in creating the best personal care solutions available at both retail stores and online. Our Personal care product's online availability is present not just on our website but also on major e-commerce platforms too. This makes customer's purchases easier and easily available at their disposal.


Personal Care at its best
Wondering where to buy personal care products. The answer to your question is ordering from our stores is the best choice you can make. Since we at Vicco understand what our customer needs and what is best suited for them but infusing the traditional care that our forefathers have given is what makes Vicco products very suitable. Several decades have passed but Vicco has always strived to give the best care to their customers and give the touch of nature without compromising on the nourishment.
Hence next time when you choose personal care products, CHOOSE VICCO