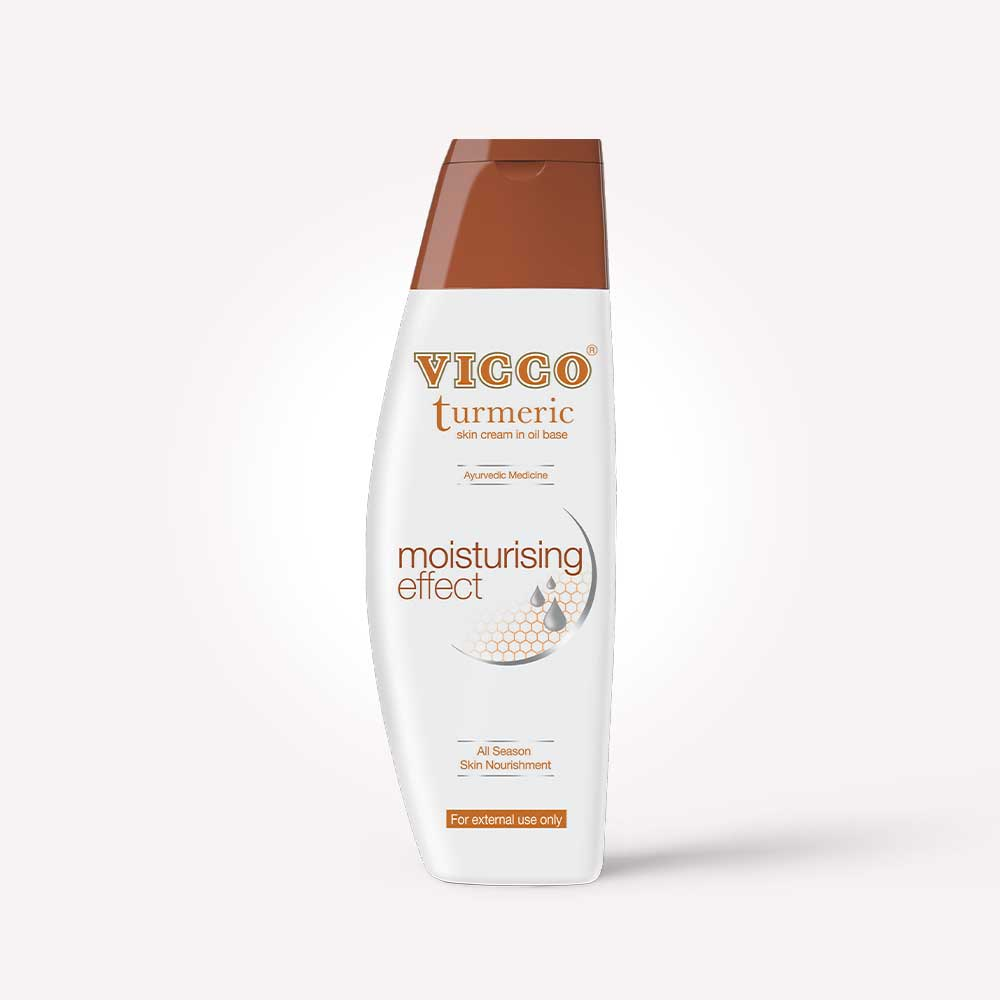 Vicco Turmeric Cream in Oil Base
Turmeric Oil Base Skin Cream - Herbal Body Lotion
Product Available in : 300gm, 100gm, 50gm
Can your general moisturizer or herbal body lotion do more than just moisturizing?
Yes, it is possible, here is the solution for your skin always wanted. The one and only herbal body lotion - Vicco Turmeric in Oil Base.
As is created by an Ayurvedic formula with the medicinal properties of Turmeric, it heals dry skin, itchy skin & rashes naturally to reveal the soft, velvety skin you loved for - each day of the year.
It doesn't just moisturize, it heals the skin.
An Oil-based cream that moisturizes the skin well without feeling greasy or sticky is a boon for the skin. As well as lotion helps in soothing minor skin irritation and burns. This comes with a soft scent that feels very pleasant. As it is enriched with turmeric extracts, it is just suitable for normal, combination, and slightly dry skin. Ideal to use by both men and women. It's an affordable Ayurvedic product.
• Nourishing body lotion with Tumeric benefits to keep your skin healthy and radiant
• It prevents skin dryness
• Turmeric can help restore your natural glow and treat uneven skin tone
• This lotion fights acne, pimples, boils, blemishes, and other common skin problems
• Lotion moisturizes your skin for intensive care and enhances skin tone and make it even
• It is suitable for normal, combination, and slightly dry skin
• This product is Halal certified, vegan and cruelty-free
Ingredients in product : Extracts of Turmeric (Curcuma Longa, Linn - Rhizome - Powder) 12% w/w/ Excipients q.s. (In Oil Base)
Take a small amount of herbal body lotion and gently apply it to body parts for better nourishment and long-lasting hydration. Thus it is suitable for daily use and more useful in Winter.
· Moisturising Effect on skin
· Takes care of skin during all climates & prevents drying of the skin.
· Nourishes skin improves tonal value
-
This Herbal body lotion is safe for all