We Provide Natural Solutions For a Healthy Life For Over 7 Decades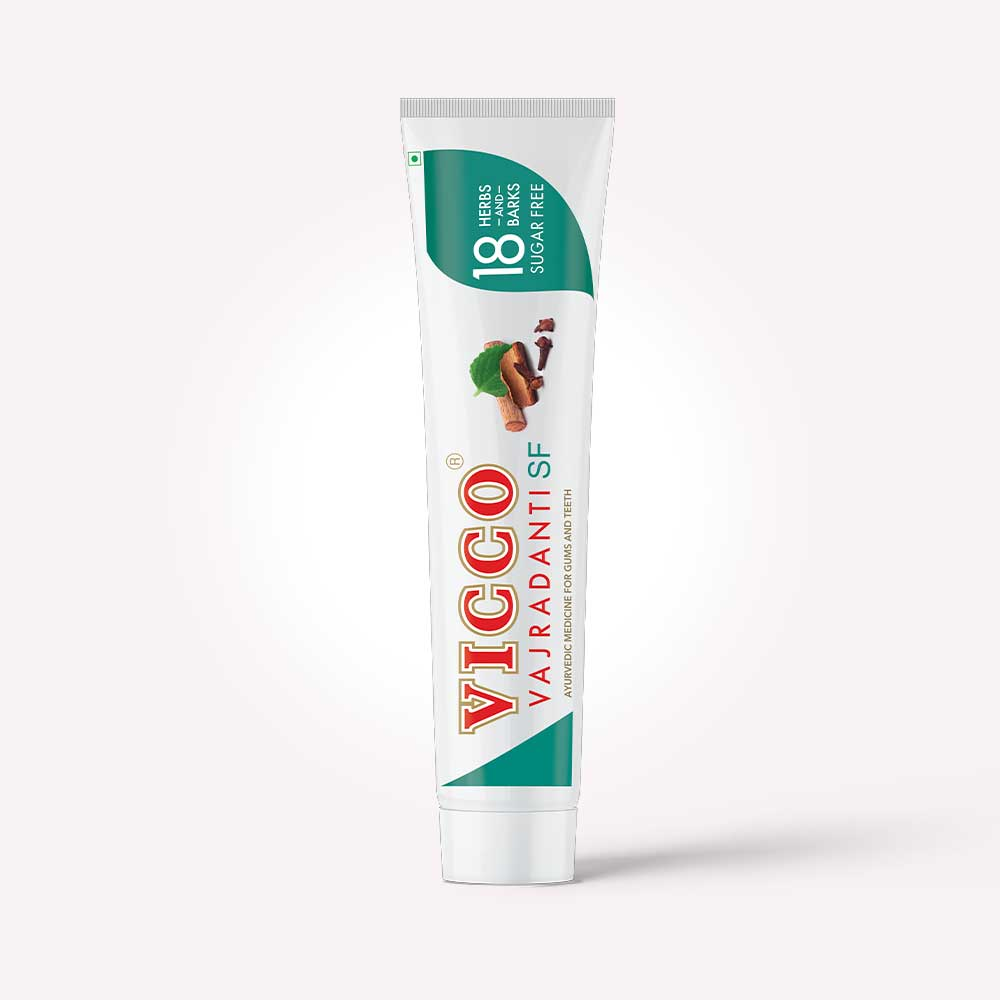 Vicco Vajradanti Sugar Free Paste
Vicco Vajradanti Sugar Free
Available: 160gm
Just like human beings, bacteria love sugar. They thrive on sugar and release acids that cause tooth decay. A sugar-free Vicco Vajradanti SF takes total care of gums and teeth.
Babhul, Bakul, Jambhul, Laung, Manjishtha, Bor, Akhrot, Akkal - kadha, Jeshthamadh Ajwain, Dalchini, Khair, Patang, Harada, Vajradanti, Anantmul, Amla, Behada, Kavab, Maifal.
Brush twice a day with a soft brush.
Start from the gum, go up and down in little circular motions.
Continue for at least 2 minutes.
Daily flossing and brushing are very important to avoid gum problems.
All Vicco products are Vegan and Cruelty-free.
• Vajradanti SF is an Ayurvedic Toothpaste with Sugarfree Feature
• Although Vicco Vajradanti SF Tooth Paste has no sweetening agent, it tastes wonderful.
• Boon for Today's health-conscious generation
• The best paste for diabetes people
• Contains No sugar, artificial sweetener or sweetening agent.
• This Sugar-Free Paste is specially formulated for diabetes Patients resulting in extra care of teeth
• No added flavours, chemicals, or additives.
• natural antiseptic, astringent, analgesic & therapeutic properties.
• Fights tooth decay, keeps teeth clean and bacteria-free.
• Helps to treat pyorrhoea, bleeding gums, swollen gums, and other periodontal disorders
• Sugarfree quality health product takes care of gums and teeth
• Vegetarians choose it as it contains no animal ingredients. And as it is not tested on animals, the followers of 'beauty without cruelty' love it.
Bleeding Gums, Sensitive Teeth, Cavities, Gingivitis, plaque, toothache, bad breath, yellow teeth.