We Provide Natural Solutions For a Healthy Life For Over 7 Decades. | Free Shipping for orders above Rs 550/-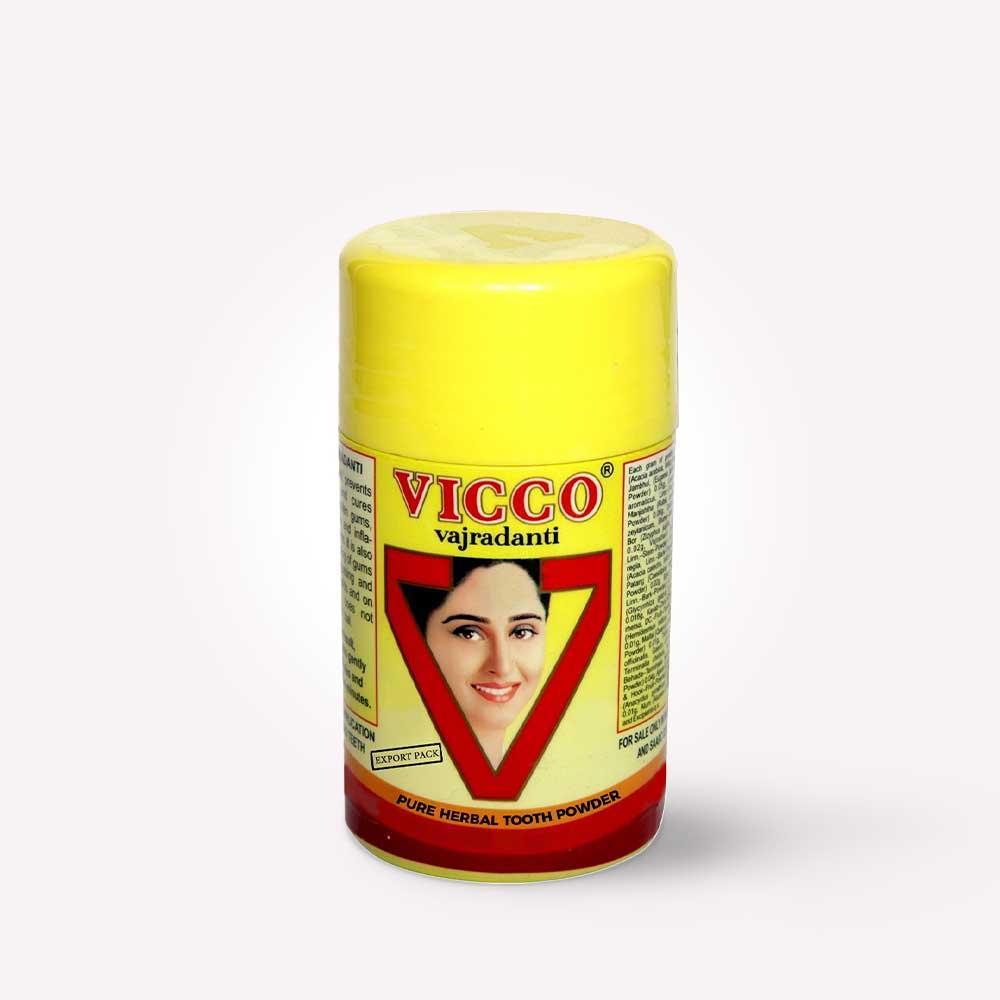 Ayurvedic Tooth Powder
Available: 400gm, 200gm, 100gm, 50gm
Vicco Vajradanti Powder, An ayurvedic tooth powder is a perfect blend of 18 Ayurvedic herbs and barks. It is itself a supreme Ayurvedic medicine for Gums and teeth. Being a natural product, each and every medicinal ingredient used in this powder is helps to make your teeth and gums strong and healthy without any side effects.
Babhul, Bakul, Jambhul, Laung, Manjishtha, Bor, Akhrot, Akkal - kadha, Jeshthamadh Ajwain, Dalchini, Khair, Patang, Harada, Vajradanti, Anantmul, Amla, Behada, Kavab, Maifal.
Brush your teeth Vicco Vajradanti paste and then the gums are to be massaged with Vicco Vajradanti powder.
While the paste helps to remove food particles and the powder strengthens your gums by allowing the essences from 18 rich herbs to percolate down the gum layers. Its medicinal properties work wonders for swollen and bleeding gums.
Vicco Vajradanti Ayurvedic Tooth Powder prevents tooth decay and cures pyorrhoea, swollen gums, bleeding gums and inflammation of gums. It is also used in hardening of gums, cleansing and healing of wounds and on toothache. It does not contain chalk or coal. The 'twin therapy' rejuvenates teeth and gums to give a never fading smile!
• 100 % Natural and Vegan Unique formula with 18 Ayurvedic herbs and barks
• Used In Hardening of Gums
• Relieves toothache by helping in the treatment of disorders and swellings of gum
• It helps to tone the gums