We Provide Natural Solutions For a Healthy Life For Over 7 Decades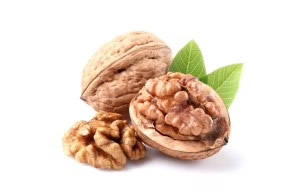 English Name : Walnut
Hindi Name : Akhrot

It was a favourite of the ancient Romans. As there were so many benefits of eating walnuts, people called it 'Juglansregia', which literally translates to ' Jupiter's royal acorn' in Latin. The nut that originated in Persia eventually spread across Asia and Europe and got everyone's attention. We have listed some of the health benefits of walnuts for you to make an informed choice.

You need to split open the tan shell to enjoy the goodness of a golden brown walnut. The abundance of walnut benefits make it a preferable choice for millions over other nuts. It's an easy snack filled with:

* Polyunsaturated fats, which are healthier compared to saturated fats
* The right amount of mega-3 fatty acids
* Ellagic acid which is important for eradicating toxins from your body and protecting you from free radicals.

You could enjoy the rich offering of walnuts in Vicco products that naturally extract the goodness of the nut using ayurvedic techniques.
Before you purchase any of Vicco's walnut enriched products its advisable to know the health benefits of walnut (Akhrot).

Research has found the consumption of walnuts have led to lower LDL (which is bad cholesterol), lower triglycerides and lower apoprotein B (important to stunt cardiovascular disease). You should also take note of its high ellagic acid (a substance that occurs naturally), which is known for its antioxidant qualities. It helps in eradicating toxins from your body and protects from free radicals. The more ellagic acid from walnuts helps in keeping your body safe from unwanted elements '

Here Are Some More Informative Highlights Of The Benefits Of Eating Akhrot:

1. Improves cardiovascular health

The polyunsaturated fatty acids add to the benefits of eating walnuts. These are healthier than saturated fats. Studies show that five servings of walnuts per week prevents blood clots and minimises 50% of risk of getting heart diseases.

2. Reduces Inflammation
The presence of alpha-linolenic and linoleic acids induce anti-inflammatory effects, which keep your blood vessels healthy and positively affect your blood lipids.

Walnut Uses For The Best Results

People across the globe love eating walnuts as a snack, or as a topping. You can add it to milk, yoghurt, salads, veggie dishes or even ice cream. It is advised to use unsalted, raw or dry-roasted to avail the health benefits of walnut. As they are high in oil content the nuts shrivel, soften and taste bitter when kept in warm temperatures for a long period of time. Just keep them in an airtight container in a dry place or refrigerated for up to 3 months or freeze them for up to a year. Do not try to revive or reuse rubbery or shrivelled walnuts as they are unusable.

While our article must have helped you know about akhrot uses and benefits of eating akhrot, make it a regular part of your diet.

After all, better food choices lead to better health!