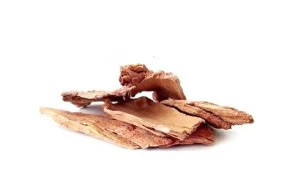 English Name : Gum Arabic Tree
Hindi Name : Babhul

PROPERTIES: High in Fibre, Hunger Suppressant, Digestive & Probiotic
The good old acacia tree has been celebrated for centuries. Gum Arabic (known as Babhul in India) is one of the greatest gifts of the acacia tree, which has been used in ayurvedic healing and many other traditional medicinal forms. Gum Arabic uses have gone beyond its healing properties when it was first used as a binder in food preparation. Since then Gum Arabic has been used extensively in making the sweetest condiments and dishes known to mankind. Let's know what is the buzz about before we get into gum arabic health benefits.
It is the gum from the Acacia Senegal tree, which is a great source of dietary fibre. It is also called gum Sudani, acacia, acacia gum, Senegal gum, and Indian gum. You can commonly find this plant in western coastal India. Since it dissolves easily in water it is used for many applications. Gum Arabic uses are great for people suffering from:
* High cholesterol
* Diabetes
* Irritable bowel syndrome (IBS)
Gum Arabic uses in the food industry include stabilising, emulsifying and thickening. Being a great binder it is used in baking, soft candy, any kind of fillings, chewing gum and confectionery.
A lot of people confuse gum arabic with Acacia rigidula, Acacia farnesiana or acai. But that is not the case.


Gum Arabic Health Benefits:

Great for Improving Heart Health
It lowers the risk of developing heart disease. Since it is rich in fibre it gets easily digested and eventually helps lower cholesterol. Lower cholesterol equals great heart health. The soluble fibre reduces the absorption of cholesterol in the gut. This in turn leads to increased excretion of bile, which is a byproduct of cholesterol in your liver and helps your body digest fat in food. It even helps you balance your blood pressure which is a major cause of heart disease and especially heart attacks.
Protect Yourself Against Diabetes
The fibre-rich ingredient slows the rate of glucose absorption and even your digestion. This decreases insulin levels and reduces insulin resistance which is the major cause of high blood sugar and type 2 diabetes, also known as diabetes mellitus. It is also good for diabetes management as it prevents weight gain and reduces the ill effects of body fat on insulin resistance. Pair Gum Arabic uses with a high-carbohydrate meal to lower blood sugar and insulin levels.
Muscle and joint pain reliever
A lot of research by experts and ayurveda gurus has shown the effects of eucalyptus to ease joint pain. You can get effective creams and ointments in case you suffer from osteoarthritis and rheumatoid arthritis conditions. This natural anti-inflammatory reduces pain and relaxes your muscles. One of the coolest eucalyptus benefits.
Good for your bowels
Gum Arabic uses have been known to treat Irritable bowel syndrome (IBS), which is a common issue with Indians due to our dietary ways. Gum Arabic is known to ease IBS symptoms as it is high in fibre. For ages, ayurvedic practitioners and medical professionals have proven the lasting effects of fifibre-rich food to ease IBS-related constipation and diarrhoea. Yoghurt and gum arabic is the best combination for any stomach issues.
Works on weight loss
Gum arabic health benefits are especially effective for people looking to reduce their weight and get in shape. It is known to be the finest suppressant as fibre-heavy food fills you up fast and stops you from overeating. Some research has shown Gum Arabic to suppress your hunger pangs for 4 hours.
Best for your gut
The fibre in Gum Arabic serves as a source of food microbes in your large intestine. It fights bad bacteria and improves the balance of good bacteria. Thus Gum Arabic uses its healing properties to act as an effective probiotic.
Gum Aarabic has found its way into the curative routines of millions. The next time you find any product with this ingredient you know what to do!