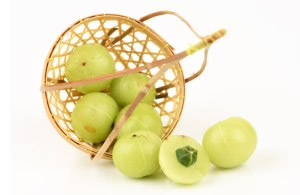 English Name : Gooseberry
Hindi Name : Amla

Nature's potent antioxidant, anti-inflammatory, and hydrating element.

Chinese, Tibetan and Ayurvedic medicine practitioners have unravelled the many health benefits of Gooseberry (Amla) by using them for their curative qualities for centuries. According to the beliefs of Indian mythology, Amla was the first tree to be created in this universe. Let's have a look at the health benefits of amla for hair and teeth.

What is Gooseberry (Amla)?

Gooseberry, also known as "Indian gooseberry" or "Amla" is one of the many ribes you find commonly. These green berries are used for their medicinal and curative properties. The fruit is its most valuable part, which has potent antioxidants that are scientifically proven to cure various major ailments including cancer. Ayurvedic practitioners had discovered the health benefits of amla ages ago. Today, Vicco uses the science of Ayurveda to produce some of the finest amla-based products.

Vicco derives Amla oil from the fruit for its range of natural hair products. The main health benefits of gooseberry for hair include:

* Promotion of hair growth
* Nourished and healthy hair
* Preventing greying

Important Health Benefits of Amla for Hair

Moisturises dry hair
Amla juice and oil are hydrating. This is great for people with dry hair as it nourishes and reduces brittle strands.


Dandruff prevention
Amla's antibacterial nature prevents dandruff formation. It works on your scalp by soothing it. This also ensures you do not have an itchy scalp. That is one of the best gooseberry uses you could find.

Strengthens your hair
It has it all - phytonutrients, vitamins, and minerals. These are the main components that strengthen your hair and add shine.

Protects hair cuticles
Cuticles are the outer part of your hair that protects your hair from external factors like dust, heat, etc.

Prevents hair loss
Amla oil is renowned for promoting hair growth and preventing breakage.


As per experts, you could make the best of the health benefits of amla oil by applying it on your hair and scalp twice a week for the best results. It is advisable to take a small patch to test for sensitivity and see how the oil reacts to your hair. Amla is clubbed with natural herbs like turmeric, saffron and bhringraj for scalp nourishment.

Due to its significant antibacterial and astringent properties, it has significant use in oral care. The presence of tannins and flavonoids makes the health benefits of gooseberry relevant. Studies show that amla increases salivary pH and inhibits the common bacteria responsible for caries. Since it is enriched with vitamin C, it gives firmness to the gums and teeth.

It also:
* Helps in healing wounds
* Prevents gum erosion
* Tones the gums
* Kills bacteria
All these properties together keep dental hygiene good and help protect your teeth and gums from oral disorders.
The next time you see any of the Vicco products with amla you are in for a treat.