We Provide Natural Solutions For a Healthy Life For Over 7 Decades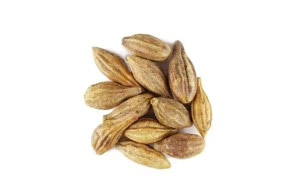 Chebulic Myrobalan / Harada
English Name : Chebulic Myrobalan
Hindi Name : Harada


What is Chebulic Myrobalan?

This plush tree is part of the Combretaceae family, which grows abundantly in Indian forests at high altitudes. This tropical tree is best known for its myrobalan fruit, which is used as a dye, timber, and primarily, medicinal products. It is also known as Haritaki after the word 'harita' which means green. As per mythological experts, Chebulic Myrobalan is known to be a sacred fruit to Lord Shiva, and thus, grows in the Himalayas.

Traditional Ayurveda Chebulic Myrobalan uses are for bowel regulation and is used as a gentle laxative. Peristalsis is a process wherein a wave-like series of muscle contractions occur, which helps move your food through the digestive tract. Chebulic Myrobalan promotes the Peristalsis process helping you eat and digest better. Its super astringency quality maintains the integrity of your tissues and the digestive tract. It helps in the healthy secretion of mucosal membranes in the respiratory, digestive, urinary and reproductive systems.

It is also a regenerative and rejuvenating herb filled with antioxidant properties and improves your skin. Daily chebulic myrobalan uses are plenty:

* Apply it on your skin by making a paste with water or rose water.
* You can add a few drops of oil to make it thicker and keep it for long. This paste has been used by many to heal cracked feet.

Chebulic myrobalan health benefits work on your hair. You can create a hair dye using haritaki powder that darkens and softens your hair in any weather. Haritaki's antimicrobial properties can also be used to avoid nail infections.

Ayurveda experts and practitioners have defined the following forms that have helped millions.

Different Types of Chebulic Myrobalan Uses

You can prepare a Chebulic myrobalan (commonly known as haritaki) paste with simple ingredients at home like water or oil. You make the paste thicker by using ghee or sugar syrup, which gives you a jam-like consistency.

It is even prescribed in tablet form for various health conditions.

The Chebulic myrobalan health benefits are best explored as a herbal oil. The oil can be used on your skin, hair, nails and even food.

You get them in tablet form for those who do not have time and prefer the same

The ayurvedic extraction process ensures you can use it in multiple ways and in its purest form. Vicco offers high-quality products infused with Chebulic myrobalan (haritaki) that have been tried and tested worldwide