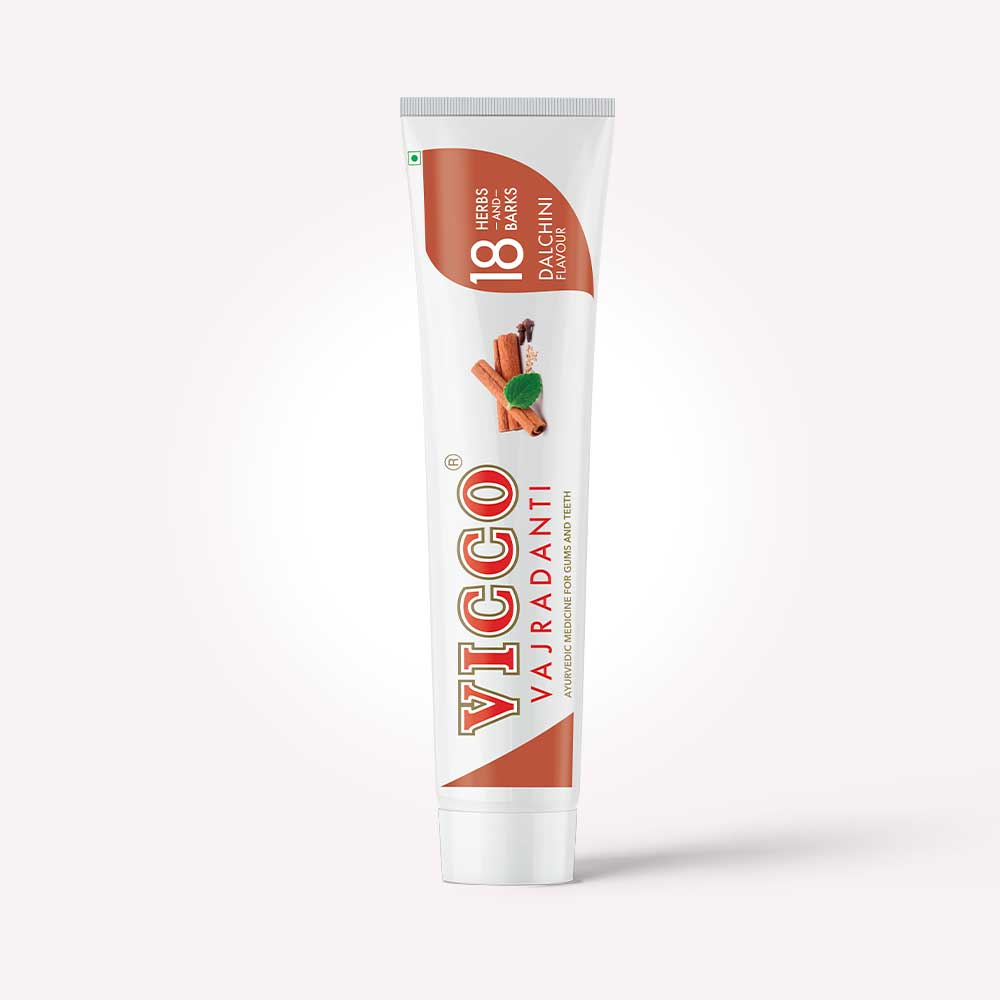 Vicco Vajradanti Paste in Dalchini Flavour
Vicco Vajradanti Best Organic Toothpaste in Dalchini Flavour
If you are looking for Organic Toothpaste then this paste may help to protect our teeth in a healthy manner.
Available In: 160gm
Vicco Vajradanti The Best Organic Toothpaste in Dalchini Flavour, a perfect blend of 18 Ayurvedic herbs & barks with Dalchini Flavour for your dental health.
It is itself a supreme Ayurvedic medicine for gums and teeth, a natural product. Each & every ayurvedic ingredient used in this paste is very beneficial for the good health of your teeth and strong gums. This Organic Paste contains one of the most known ayurvedic herbs Vajradanti which means diamond teeth and has got no artificial ingredients in it.
This Paste is an effective remedy for pyorrhoea, swollen and bleeding gums, and other periodontal disorders.
Experience the power of Vicco Vajradanti (An organic Toothpaste) . Remember... Prevention is better than cure.
After using it we can find that our breath feels good and leaves our mouth feeling fresh. It does not have any sugar as many of the toothpaste contains sugar.
Babhul, Bakul, Jambhul, Laung, Manjishtha, Bor, Akhrot, Akkal - kadha, Jeshthamadh Ajwain, Dalchini, Khair, Patang, Harada, Vajradanti, Anantmul, Amla, Behada, Kavab, Maifal.
Best for all age groups. Safe for Kids.
Brush twice a day with a soft brush.
Start from the gum, go up and down in little circular motions.
Continue for at least 2 minutes.
Daily flossing and brushing are very important to avoid gum problems.
All Vicco products are Vegan and Cruelty-free.
• Bakul is added to strengthen teeth and gums
• Lavang is added in the ayurvedic toothpaste to control tooth decay and reduce bad breath
• Protects from 7 dental problems: cavities, gingivitis, plaque, toothache, bad breath, and yellow teeth
• Fights with germs and bacterias to reduce tartar and plaque
• Read the label carefully before use
• Store in a cool dry place