Great Breath & Great Taste Only with Vicco Paste!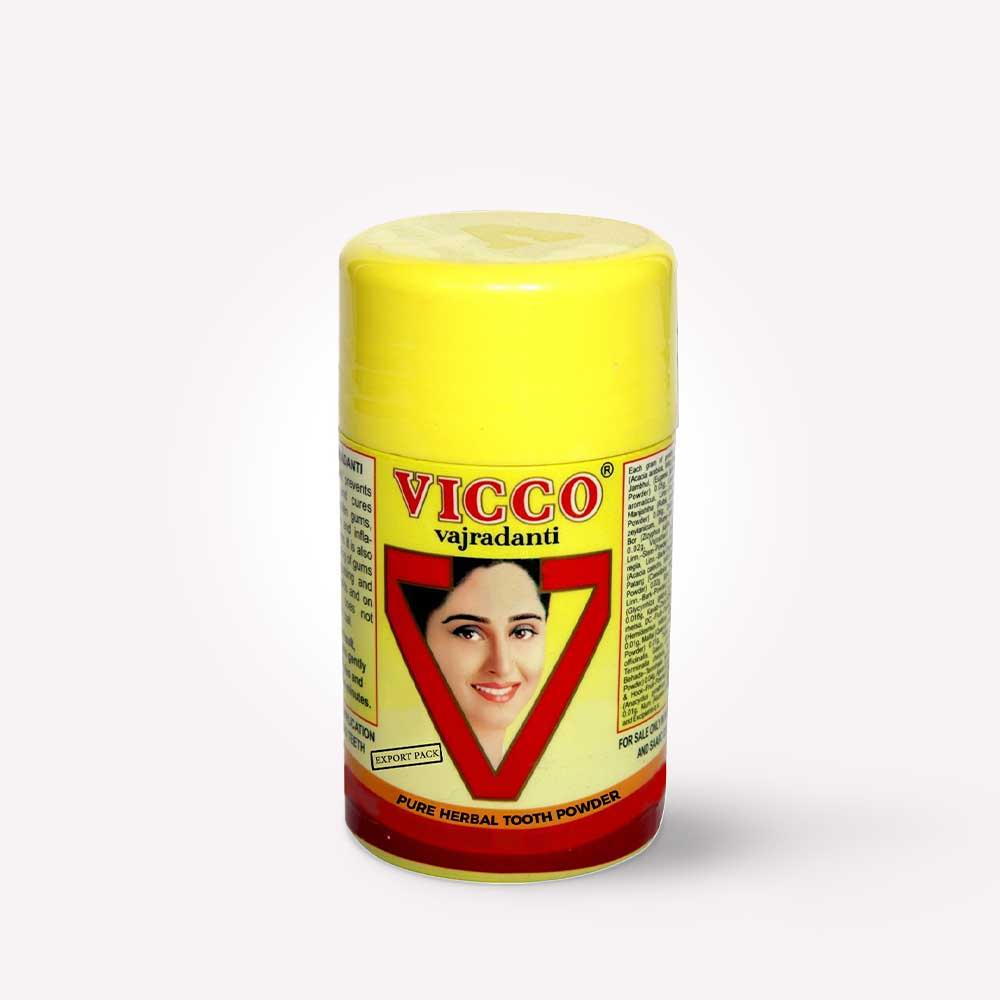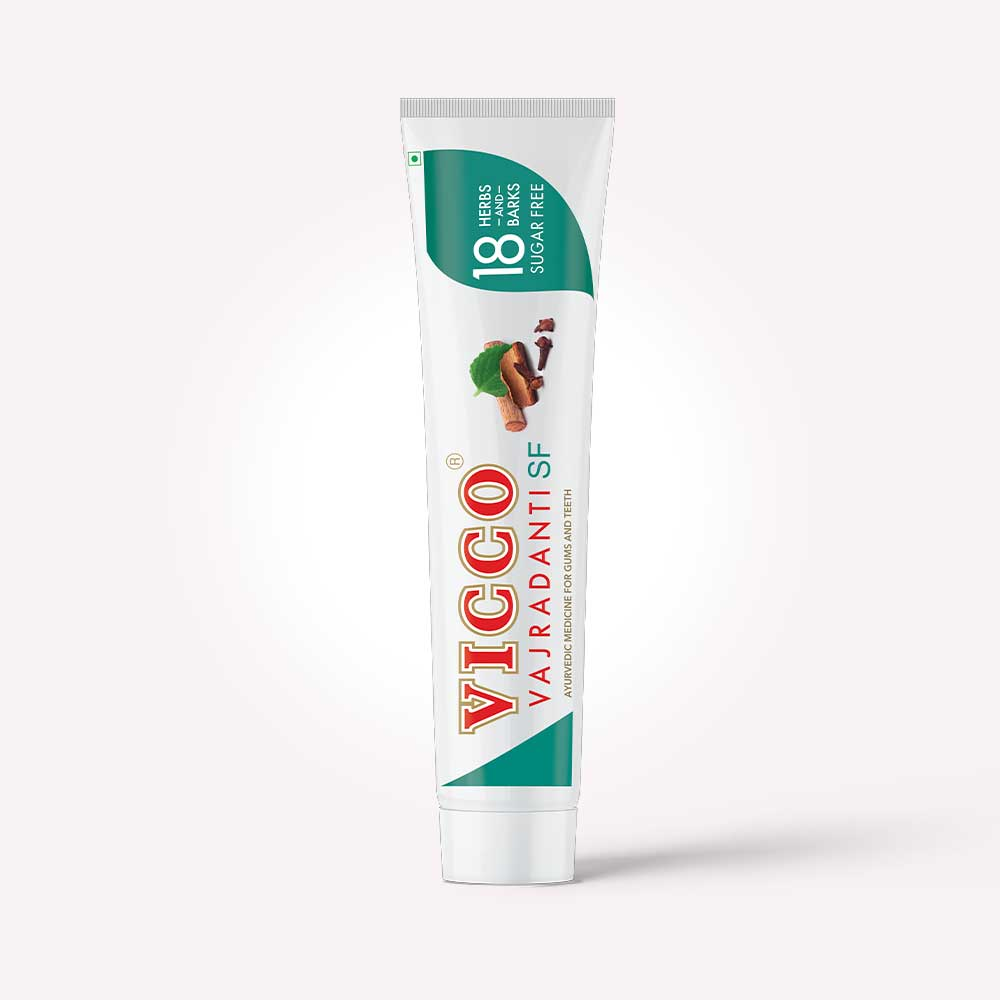 Vicco Vajradanti Sugar Free Paste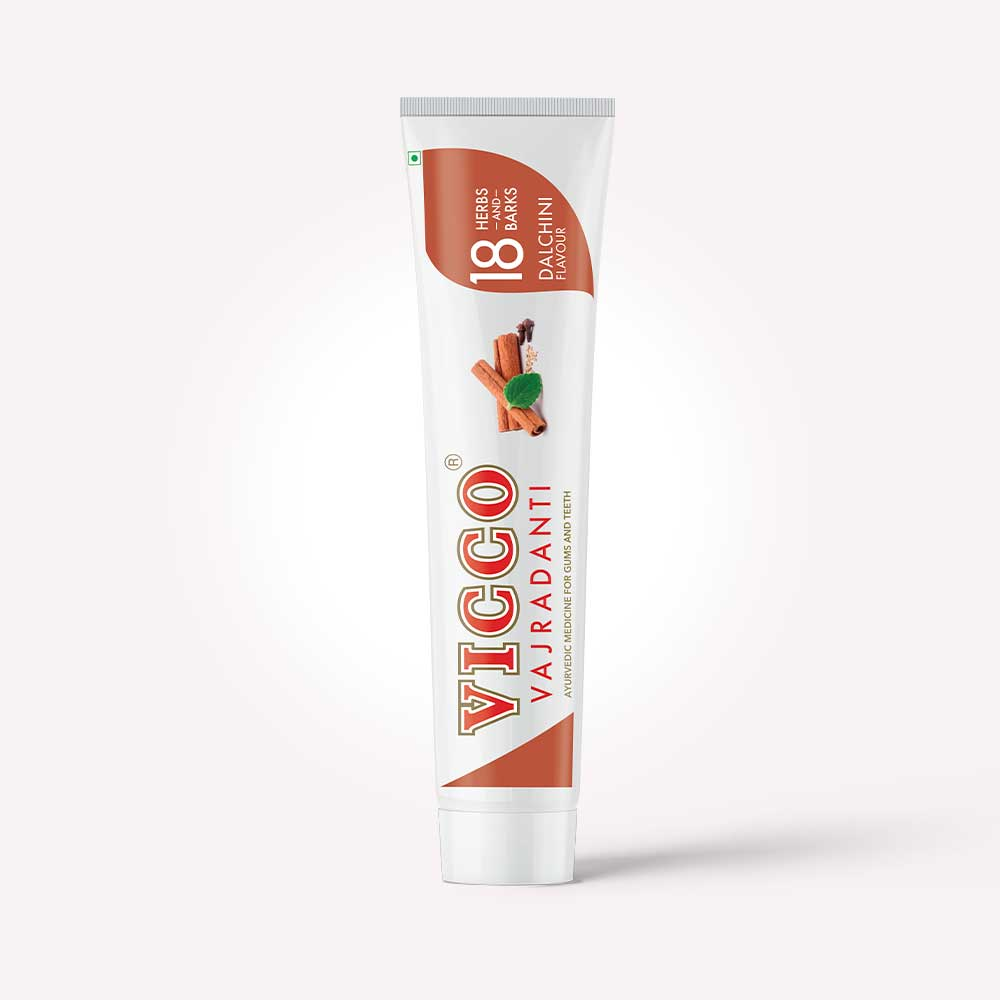 Vicco Vajradanti Paste in
Dalchini Flavour
You know it's pure when its natural. And what better way to start your day than with a paste that has natural ingredients. Vicco paste is made with the finest herbal and ayurvedic ingredients. Years of research put into hand picking the matchless ingredients that make your tube of Vicco Vajradanti paste so effective. And it's not just our pastes but also the healing qualities of Vicco Vajradanti Powder that refreshes the mornings of millions across India.
Vicco Vajradanti paste is an iconic paste that has served generations. A trusted brand in oral care with a legacy like none other. This completely natural paste contains no coarse abrasives, fluoride, or added colour making it the first choice of health conscious individuals who believe in the advantages of natural products. Vicco Vajradanti ayurvedic paste is made from a concentrated formula and the perfect blend of 18 Ayurvedic herbs and bark that makes it last longer and taste great, which is all you want to jumpstart your day!
The entire range of Vicco paste is made from Babhul, Bakul, Jambhul, Laung , Manjishtha, Bor, Akhrot, Akkal - kadha, Jeshthamadh, Ajwain, Dalchini, Khair, Patang, Harada, Vajradanti, Anantmul, Amla, Behada, Kavab, Maifal. But we also have a wide range of ingredients pieced together for different oral needs. As you read through the article you will discover a range of natural products that are designed keeping you in mind.
For example, our natural herbal tooth powder is an effective oral care product across India. In fact, the long lasting benefits of Vicco Vajradanti Powder is evident in its loyal customer base for generations. The rich ayurvedic tooth powder makes it the perfect choice for people who are looking for sparkling teeth and healthy gums. Being a natural product Vicco Vajradanti Powder ingredients are unique and there are no other products that could match its quality.
The ayurvedic herbal tooth powder works wonders for your gums and teeth without any side effects. The 100 % ayurvedic powder for teeth is vegan too.
• It helps in healing hardening and toning of gums
• Relieves toothache, swelling of gums and other oral disorders
• It prevents tooth decay and cures pyorrhoea
It is effective if you use the ayurvedic tooth powder along with your toothpaste. You can start your routine by brushing your teeth with the Vicco Vajradanti paste and then use the Vicco Vajradanti powder to massage your gums. The paste helps in removing food particles from your teeth and the powder strengthens your gums by allowing the essences from 18 rich herbs to percolate down the gum layers. This ensures double protection and care. This 'twin therapy' of Vicco Vajradanti tooth powder and paste is all you need!
But if you are one of those looking for a toothpaste without sugar we have an option for that too.
We all know that like human beings, bacteria love sugar too. They thrive on sugar and release acids that cause tooth decay. That is where the Vicco Vajradanti sugar free toothpaste comes to your rescue. This Ayurvedic toothpaste has no sweetening agent, yet it tastes wonderful. Vicco sf paste is a boon for today's health-conscious generation and the best one for people with diabetes.
This revolutionary product has the following benefits:
• Contains no sugar, no added flavours, chemicals, additives, artificial sweetener or sweetening agent.
• Is specially formulated for diabetic patients, resulting in extra care for your teeth.
• Fights tooth decay, keeps teeth clean and bacteria-free.
• Helps in treating pyorrhoea, bleeding or swollen gums, and other periodontal disorders.
While you are looking for Vicco paste online do not forget to check the best quality ingredients in this sugar-free toothpaste. Vegetarians choose it as it contains no animal ingredients and it is not tested on animals. Its natural antiseptic, astringent, analgesic & therapeutic properties are great for people across ages.
But our range does not end there.
If you are looking for an organic toothpaste then Vicco Vajradanti Dalchini Flavour paste is the one for you. Cinnamon, colloquially known as Dalchini, is a spice that has long been celebrated for its medicinal properties and warming aroma and flavour. Research suggests that some of the compounds in cinnamon have antioxidant, anti-inflammatory, and antimicrobial properties that help treat toothaches and other ailments. Unlike the other ayurvedic tooth powder in our range, the refreshing qualities of Dalchini (cinnamon) are the perfect way to start your day.
Bakul is added to strengthen teeth and gums while Lavang is added to control tooth decay and reduce bad breath. With so many beneficial ingredients Vicco Vajradanti dalchini flavour paste tops the list of natural, ayurvedic pastes.
The next Vicco paste is the Vicco saunf paste with a perfect blend of 18 Ayurvedic herbs & barks. Saunf, also known as Fennel, helps prevent plaque build-up and gum disease. And that too by just chewing its seeds. Vicco adds saunf for its refreshing and antimicrobial properties.
While we just talked about the combined effect of the ayurvedic herbal tooth powder and our ayurvedic herbal tooth powder, we recommend the following routine to be followed every day:
• Brush twice a day with a soft brush.
• Start from the gum, go up and down in little circular motions.
• Continue for at least 2 minutes.
• Daily flossing and brushing are very important to avoid gum problems.
• Finish your routine with the natural herbal tooth powder.
The vegan and cruelty-free products are manufactured with care. The wide range of pastes freshen your breath, keep your gums healthy, prevent oral disorders and leaves a clean feeling in your mouth. Discover the only toothpastes that are doing you good!